Katherine Ward (ABD) hired as Assistant Professor of Philosophy at Bucknell Univ.
Posted in Graduate Program News PhD Placements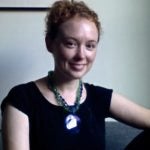 Katherine Ward has accepted a tenure-line assistant professorship in philosophy at Bucknell Univ. in Lewisburg, PA, for Fall 2020. Ward is currently ABD, completing her doctoral dissertation, "Standpoint Phenomenology," with a committee of William Blattner (mentor), Quill Rebecca Kukla, and Nancy Sherman.